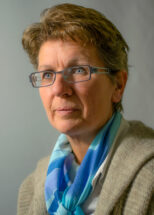 Sara Gabriels, GMPSA, EFIAP/b, Belgium
Sara Gabriëls bought her first DSLR in 2016 and immediately enrolled in an entry-level photography course.
The start of an amazing adventure.
By the end of 2017, she decided to try her luck in the international photography competitions.
She wanted to find out if she had a place in the amateur photography world.
---
A short overview:
2018: PPSA AFIAP
2019: AFIAP – PPSA
2020: EFIAP – MPSA
2021: MPSA2 – Belgium photography champion
2021: EFIAP/b
2022: GMPSA
In six years she won many – national as well as international – titles, medals, awards, trophies and several blue badges. One of the highlights happened in 2021 when she earned the title of Belgium Champion Photography.
Sara's first love is a night photography. However today she equally finds pleasure in portrait photography, street photography and macro as well. She is driven and doesn't rest once she sets her mind to it.
Sara operates from the heart.
Her images don't need further explanation.
The image is the story brought with honesty, purity, and openness that is so typical for this photographer.
Every image must connect with the photographer before being published. Without this "seal of approval", the image holds no value for Sara and doesn't get to see "the light of day".
However, every photograph says more than 1000 words.
We suggest you to dive into the Sara's inner world, feel the trembling tingle of every colour, shade, or shape, originating directly from her hart.
Enjoy!