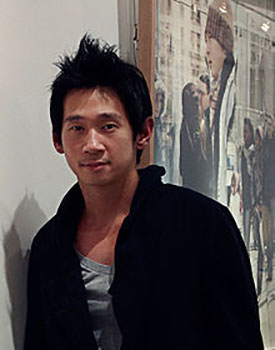 John Clang is a photographer/visual artist.
He was born Ang Choon Leng in Singapore, earned his moniker in 1990 while in the National Service as his badge read C.L.Ang.
In the early 90s, being a Singaporean was extremely difficult to secure meetings locally. However, when he introduced himself as Clang, people were more receptive to meet him, thinking that he was from Europe. It must have been a great disappointment when they met him.
In 1999, he relocated to New York and was represented by Art + Commerce from 2002 to 2007.
---
Clang's first exhibition, at age 20, was a duo-show at the controversial (and now defunct)
Singapore art group 5th Passage Artists. In 2001, he had his first solo exhibition at the Diane Von
Furstenberg Foundation in New York. He has since participated in more than 20 solo and group
exhibitions internationally. An installation of his personal work is in the permanent collection at
the Singapore Art Museum and his artwork is also collected by private collectors from around the
world.
A visionary in his own right, Clang continues to push the medium of photography to critical and
popular acclaim. Nuanced yet startling, simple yet profound; these seeming "images of the
mundane'ÄĚ that Clang created lift from the flow of an ordinary existence, seep into the cracks of
our collective consciousness 'ÄĒ and tear it apart.
Artist Statement:
The mundane and the commonplace attract me 'ÄĒ I always profess an affinity for subject matters closely related to my daily life. I resonate with subject matters closely related to my daily life. I often dwell upon urban and contemporary themes and landscapes; be it the city or its inhabitants. Intrigued by subtle changes in my environment, I find a corresponding shift in my feelings and thoughts. Hence, my images are a poetic reflection of myself in response to the nuanced changes in my environment.
In series like Silhouette/Urban Intervention (Black Tape), Strangers, Time, Out of Context, Beijing/NYC, Remembering Strangers, My Twilight Window and Self-reflection, I grapple with issues of estrangement and intimacy in an urban space; the displacement of familiar urban objects, views and perspectives; as well as our sense of identity and place in this world.
My images express an organic and poetic response to the nuanced shifts in my environment.My oeuvre reads like a visual diary, documenting my personal growth and critical thinking processes.
The deeply personal also occupies my work, specifically the themes of memory, identity and longing as a son living overseas for years and separated from my family back home. Many of my series narrate my inner landscape and narrative of emotional conflicts, specifically the themes of memory, identity and longing as a Singaporean in New York separated from my family. In series like Erasure and Guilt, I respectively explore the fears when contemplating the death of a loved one, and the guilt of disappointing our loved ones. Explorations of identity can also take a turn for the playful and provocative'ÄĒas evidenced in lighter series like Beon Sleeps and Me and Friends.
Ultimately, a good photograph is one that brings us face to face with our own existence. It pulls the stranger standing next to us into the intimate radius of our life. It collapses the beauty and strangeness around us into one. It connects. A good photograph does all these.
See the interview with J. Clang by Sally Clarke: