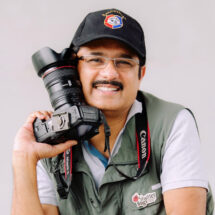 Mohammed Arfan Asif
FRPS, EFIAP/d2, MPSA, GWP.ICS, MICS, MIUP, MAPS, FICS, c*MoL, APSA, Hon.YPS, HonFICS, Hon.MICS, Hon.EUSPA, Hon.FSWAN, Hon.EFMPA, Hon.FPSNJ, Hon.PSPB, Hon.PIP.ICS, Hon.EICS/PSBP, Hon.EIUSF, Hon.CPE, HonMLMG, Hon.GMPIPC
Mohammed Arfan Asif / Arfan, 58 years of age is a Hospital Pharmacist by profession and a photoartist by passion.
His photographic journey began in the mid-80s in his native Bengaluru in India. Arfan's photographic subjects are primarily portraits and landscapes, though he has dabbled in all genres including nature and travel with a preference for the monochrome medium.
He has exhibited his photographs regularly in photography exhibitions and galleries all over the world for more than 35 years of intense photography and won many awards including the Grand Prix in Serbia, FIAP blue-pin badges for best author in salons, Trierenberg Gold medal, Photo of the Year in Germany, Al Thani gold medal, The RPS Landscape Photographer of the Year Award, many PSA and FIAP gold medals.
Arfan has been awarded International photographic distinctions from various organizations including the Fellowship of The Royal Photographic Society (FRPS in 2021), the Master distinction of the Photographic Society of America (MPSA in 2018), the Excellence Diamond of the Federation of International Photographic Art (EFIAP/d2 in 2022), Grand World Photographer distinction of Image Colleague Society International (GWP.ICS) in 2021 and Master distinction of International Union of Photographers (MIUP) in 2020.
Many photographic organizations have awarded him their honorary titles. In 1997, Arfan founded "Askary Awards" for promoting photography among the youth in Karnataka State, India. He is currently the Chapter Organizer for the Dubai Chapter of The RPS and the UAE Country Representative for Image Colleague Society International. He is also the Director of the PSA Portrait Competition as well as the 1st Vice Chair of the PSA PID Board apart from his most important role as Mentor of Shutter Bugs Creative Forum in Dubai.
Arfan has given talks, presented workshops, online lectures, judged International exhibitions/salons, featured in group exhibitions, curated 8 photography exhibitions and organized 3 International salons. He has been a prolific writer on photography topics and in the past was the columnist for Photography Middle East and Connector magazines. He has mentored more than 50 enthusiasts to achieve International distinctions from among his 100+ Shutterbugs he currently mentors.
For Arfan, photography is a passion and he strongly believes that it brings people together and makes them human.
Contact details:
Mohammed Arfan Asif, MPharm. PDCR
PO Box 28303
Dubai, United Arab Emirates
arfan7@yahoo.com
(preferred mode of communication is Email or Facebook messenger)
Take u journey to the magic world of Arfans photography passion, just take a peek into the secrets of a noble heart of a great artist and dear friend:
Mohammed Arfan Asif – Dunes
Mohammed Arfan Asif – People
Mohammed Arfan Asif – Scapes