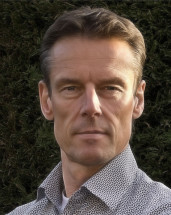 Marcel van Balken MFIAP EFIAP/d2 MPSA
Marcel van Balken is a self-taught photographer from the Netherlands . As a photographer he is interested in specific themes and conceptual photography.
He believes in working thematically with an absolute preference for surrealistic and creative photography.
Marcel moves as a photographer ideally in the field of surrealism and magic realism.
He prefers to create photographic images inspired by everyday reality combined with his own imagination.
---
He enjoys to show his images in international Exhibitions and has over 6,000 acceptances in international Photographic Exhibitions, including more than 750 Medals and other awards. His photography has been published all over the world in photo magazines & books, on calendars, on television and the internet.
More than 750 awards/prices and 6.000 acceptances
More than 500 publications of artwork worldwide
More than   75 exhibitions all over the world
More than   25 times jury-member of international salons
Honours
•    MFIAP (MASTER Fédération Internationale de l'Art Photographique) – 2018
•    MPSA (Master in Photography Photographic Society of America) – 2018
•    EFIAP/d2 (Excellence Fédération Internationale de l'Art Photographique DIAMOND) – 2018
•    EFIAP/d1 (Excellence Fédération Internationale de l'Art Photographique DIAMOND) – 2017
•    EFIAP/p (Excellence Fédération Internationale de l'Art Photographique PLATINUM) – 2014
•    EPSA (Excellence in Photography Photographic Society of America) – 2011
•    EFIAP/g (Excellence Fédération Internationale de l'Art Photographique GOLD) – 2009
•    PPSA (Proficiency in Photography Photographic Society of America) – 2008
•    RISF-3 (Reconnaissance level 3) Image sans frontier – 2008
•    EFIAP/s (Excellence Fédération Internationale de l'Art Photographique silver) – 2006
•    EFIAP/b (Excellence Fédération Internationale de l'Art Photographique bronze) – 2004
•    Honorary Member Fotokring Uithoorn – 1998
•    EFIAP (Excellence Fédération Internationale de l'Art Photographique) – 1997
•    Ehrenloge Deutscher Amateurfotogafen (ELDAF) – 1997
•    AFIAP (Artist Fédération Internationale de l'Art Photographique) – 1994
PSA Liaison Officer Netherlands
PSA Country Membership Director Netherlands
FIAP Liaison Officer Netherlands