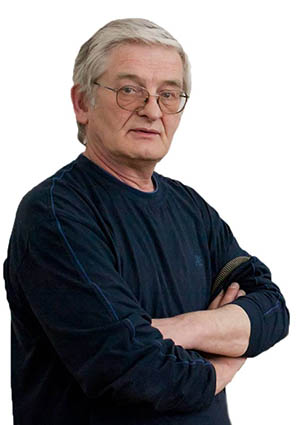 Radisav Filipović was born in 1952 in Leskovac. He started in the fifth grade elementary school "Petar Tasic," in the first school photo section in Leskovac. Later, he  became a member of Photo Cinema Club "Aca Stojanovic" in Leskovac.
Since 1970, he had very intense interest in photography, and emergency education acquires a degree Qualified Photographer. Since 1979, he is professional photographer, working as a photojournalist for newspapers "Our Word", and then became editor of the photos in the same newsroom.
Also, as a photojournalist, has collaborated with leading Yugoslav newspapers and magazines. Since 1981, he was a cameraman of TV Belgrade – Bureau in Leskovac.
---
He has participated in over 100 exhibitions of art photography and thereby won many important awards. He has had three solo exhibitions of photos in Leskovac, 1986, 2000 Lebane and Belgrade in 2012.
Actively participate in the work of the Photo Club "Leskovac" as a presenter and lecturer in traditional Photo schools for beginners within the Education Program Photo Club "Leskovac".
Since 2009 he is the President of the Photo Club "Leskovac".
He is achieved title Candidate Masters by Photo Association of Serbia has in 2010, and became Master of Photography in 2012. he is one of the authors of the exhibition "Pearls Serbian photos" and a member of the Board of the Photo Association of Serbia.
2014 he became a member of the Association of Applied Arts Artists and Designers of Serbia (ULUPUDUS).
He is member of the Association of Journalists of Serbia.
He lives and works in Leskovac, the owner is a graphic – publishing house "Fileks".
He works in field of creative and applied photography.
Radisav Filipovic about Photography Art:
"The essence of photography is in the statement between the seen and experienced reflections of the author"
"An artist creates for the future and through the past he shows us the present"